Welcome to St Peter's CE Primary School.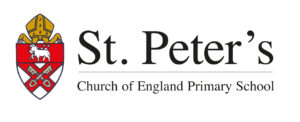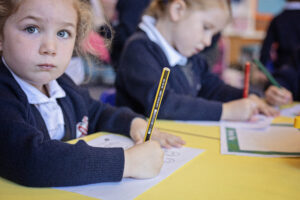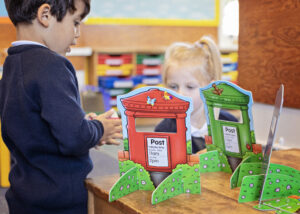 Our vision of  LOVE LEARN SHINE influences all aspects of school life including our admissions.
LOVE
We nurture each individual to be happy, healthy and safe, build positive and respectful relationships with others valuing their uniqueness and including everyone.
Love is patient, love is kind. It does not envy, it does not boast, it is not proud. It does not dishonor others, it is not self-seeking, it is not easily angered, it keeps no record of wrongs. Love does not delight in evil but rejoices with the truth. It always protects, always trusts, always hopes, always perseveres. Love never fails.
Corinthians 13:4-8 4
The concept of Christian love as described in Corinthians influences our approach to admissions especially the highly inclusive nature of our school. As well as serving our immediate community, we welcome children from beyond. We are proud that many families actively choose St Peter's and we happily welcome children from beyond the immediate catchment.
Admissions Process
We welcome children at the start of their school joining in Reception as well as those moving to  St Peter's part way through their primary school years.
We are now taking bookings for individual personalised tours with the Headteacher for any families with a child due to start school in September 2024 or looking for a place for a child already of primary school age. You can book you individual tour here. If you have any problems please do contact us via admin@stpeters.ycway.uk or by calling 01423 569684.
We warmly welcome visits to our school for anyone considering sending their child to St Peter's.  If you are thinking of sending your child or children to us, please get in touch to arrange a visit.  You can do this by contacting the school office to arrange a personalised visit hosted by our Headteacher Mr Griffiths.
As we are part of a multi academy trust, Yorkshire Causeway Schools Trust is our admission authority, however all admissions are co-ordinated on our behalf by North Yorkshire County Council.  As such applications should be made directly with North Yorkshire County Council. 
Once families have decided they would like to send their child or children to St Peter's they should contact the admissions team.  They can be contacted at:
Telephone: 01609 533679
Email: schooladmissions@northyorks.gov.uk
Web: https://www.northyorks.gov.uk/school-admissions
For appeals please follow the link below for the North Yorkshire County Council procedure; NYCC Appeals
Prospective Parent Information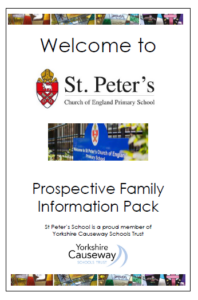 Prospective Family Information  2023-2024

Who can apply for a place St Peter's? 
Anyone with a child of primary school age is welcome to apply for a place at St Peter's
Do you have to attend church to come to St Peter's School?
No. We are proud of our Church and Christian foundations and the influence it has on all aspects of school life. Church attendance however is not a requirement and has no bearing on the allocation of places.
Do you have to live in the catchment area?
No. We welcome children from within and beyond our catchment area. Due to our town location which means most of our catchment area is commercial properties the majority of our children come from out of catchment.
When do children start at St Peter's?
Children are admitted to St. Peter's in the September of the school year in which their fifth birthday falls. We have only one in-take a year so all children will  have a full year in Reception class. All children start full time from the start of term in September. We can personalise this if necessary and will work with families to ensure all children have a successful start to their school life at St Peter's.
Can children join St Peter's in other Year Groups and part way through the school year?
Yes. This is known as an 'in year admission'. We understand sometimes families need to apply for a school place mid-year, they may be new to the area or wish to request to move to a new school.  We will always do our best to try and find a place for children. An in-year application can be made at any time of the year; however, you can only apply up to a term in advance of the date you want the school place.
How do I apply for a place for my child at St Peter's School? 
North Yorkshire is responsible for allocating school places and applications for children to start in September 2023. The application window opens in October and closes in January. More information can be found at the North Yorkshire School Admissions website.  Simply click on the link to start your online application and put St Peter's as your number 1 choice of school.
We very much look forward to meeting you in person, and welcoming you into the St Peter's school family.
Further Admissions Documents
We very much look forward to meeting you in person, and welcoming you into the St Peter's school family.