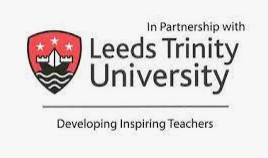 We are proud to work in partnership with Leeds Trinity University to offer placements to trainees on various Initial Teacher Training (ITT) routes. Trainees are well supported to make excellent contributions in school by their host teacher, a trained school mentor and also a link tutor from the University.
We keep parents informed of trainees in school via our weekly newsletter.
If you are interested in training to teach we would encourage you to look at the different under graduate and post graduate routes offered by Leeds Trinity University.