Subject Leader
The subject leader for Geography is Mrs Robbins.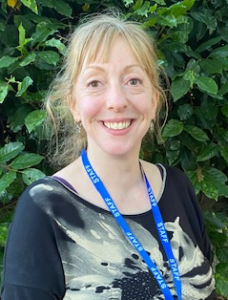 They can be contacted by emailing admin@stpeters.ycway.uk using the subject title FAO of followed by the name of the subject leader. Emails typically receive a reply within 2-3 working days. Please note most of our subject leaders have a full-time teaching commitment.
With oversight and support from our Senior Leadership team subject leaders oversee and monitor the intent, implementation and impact of their subject.
Curriculum Development
Intent – The ambition and principles of our curriculum for our children. The curriculum content we expect children to learn. What we expect children to know.
Implementation – How the intentions are realised. The sequence and strategies used to ensure children know and remember more.
Impact – How we check and see if children know what we expect them to and how we help them further if needed. How knowledge and skills learnt improved and enriches their lives socially, emotionally, spiritually as well as academically.
Subject Rationale
At St Peter's, the journey to becoming Geography literate begins in the Early Years – a vitally important developmental stage in which pupils begin a lifelong journey of discovery. All later learning builds on the experiences, knowledge and understanding developed through and in Early Years settings.  
'A 'geographical dimension' to learning at any time contributes to pupils' sense of who they are and how they are a part of the wider world, but is especially important in the Early Years. Geography ensures a global perspective, fosters a sustainable mindset, and empowers agency.' Paula Owens et al, GA Early Years and Primary Phase Committee  
Our youngest children learn about Geography within the EYFS framework which is structured very differently to the national curriculum as it is organised across seven areas of learning rather than subject areas. The most relevant statements for geography are taken from the area of learning known as 'Understanding the World'– in particular, the 'people, culture and communities' area. It also links to, and is supported by, the other Areas of Learning in the EYFS curriculum. It will be led by the children's interest and the 'here and how' gained from the observation, assessment and our planning cycle. For instance, the theme 'All About Us' develops an awareness of their place in the World.   Due to the nature of EYFS, it will also occur naturally within other areas of learning. During the Reception Year, we follow certain topics/themes that may include Geography.  
The table below outlines the most relevant prerequisite skills for Geography within the National Curriculum. These statements are taken from the Early Learning Goals in the EYFS statutory framework and the Development Matters age ranges for Three and Four-Year-Olds and Reception to match the programme of study for geography: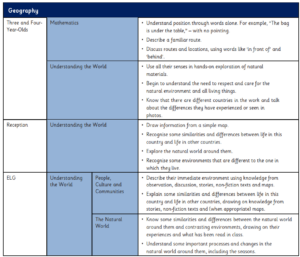 By the time children reach the end of Year Six, they will have a sense of their place in the world, an ability to articulate their thoughts and feelings about different places they have learned about and a desire to continue learning about the world in which they live. They will also have learned a range of skills for gathering and analysing information. developed a secure geographical understanding and will be working in line with age related national expectations. This secure foundation will inspire and prepare them for their future in Key Stage 3 and beyond.
Full Subject Rationale Geography
Subject Sequence and Knowledge Progression
The documents below outline in more detail the sequence children will follow in relation to Geography and the progression of knowledge.
Geography Curriculum Intent & Implement Subject Overview
Knowledge Organisers Examples
To help children secure the intended knowledge we are developing a range of child friendly knowledge organisers to support our curriculum implementation. Some examples are attached below.
Knowledge Organiser Enough for Everyone
KS2 Geography Knowledge Organiser – Rivers
Geography Knowledge Organiser – Mountains, Volcanoes and Earthquakes
Impact Examples
We are pleased to share some examples of how knowledge and skills learnt have improved and enriched our children's lives socially, emotionally, spiritually as well as academically.
Impact Statement
'Impact' refers to evaluating what knowledge and understanding pupils have gained against age-related expectations. Essentially, there are two key questions a Subject Leader at St. Peter's asks: 'Have our children learnt what was intended? How do we know?'.
These two questions may be answered by thinking about our Geography curriculum from the following three perspectives:
The intended curriculum – our plans and schemes of work.
To judge curriculum impact, it is essential to be as specific as possible in specifying the knowledge we want our children to learn and remember; otherwise, it will be unclear whether it has been remembered. We have, therefore, created specific 'key knowledge' statements for 'I know that…' and 'I know how…'. It is also important to show improvement from remembering to knowing and reasoning.
The enacted curriculum – the curriculum that is taught.
To judge the enacted curriculum, we monitor the coverage of the intended curriculum delivered through 'Blocked Teaching'.  St Peter's teachers use evidence-informed Teaching & Learning Principles so that students are more likely than not to meet curriculum expectations. Because learning is a change to long-term memory, it is impossible to know in the short term whether they have learnt anything. However, evidence-informed practices are most likely to work.
The learnt curriculum – the curriculum knowledge that students remember.
The learnt curriculum may only be judged in the longer term, as learning changes long-term memory.  However, indicators of learning are valuable signposts that our curriculum is having its intended impact.  We utilise first-hand evidence of how pupils are doing, drawing together evidence from the following indicators of impact: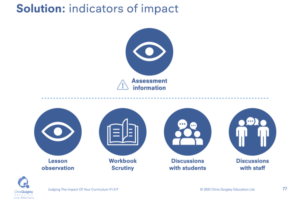 End of Unit Assessments are completed for the Subject Lead as part of the monitoring process. Class teachers use formative assessments to check that the intended curriculum has been covered and identify how secure pupils' knowledge is. Consequently, areas that may need further teaching are flagged and any misconceptions that pupils have are highlighted. Equally, it identifies aspects that pupils quickly grasp. All of these points feed into, and inform, future planning.
Bewerley Park with Year 5
During the Year 5 Residential to Bewerley Park, one of our aims was for children to retrieve and apply their knowledge of The Journey of a River as Key Stage 2 had studied this unit in the previous half term. Walking along Trollers Gill, and other gills, becks and dikes in Nidderdale, children were able to identify examples of the upper course of a river system.  They also built on what they knew about how a sudden influx of rainwater impacted the river course; children spotted a water mark made up of grasses and twigs.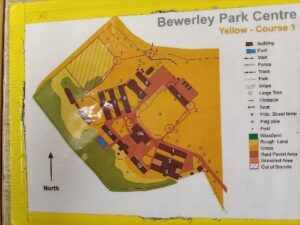 Tasked with reading a map to locate and retrieve key information around the grounds of the centre, this activity built on orienteering in the school grounds the term before. In small groups, and in the dark, they found this challenging but soon mastered the task!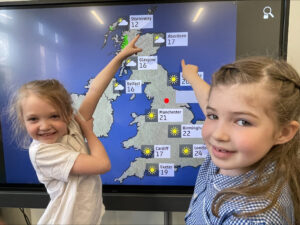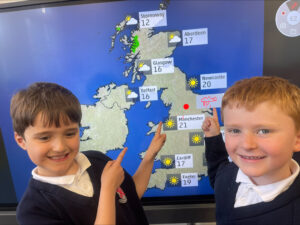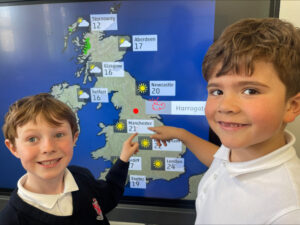 Year 1 and 2 have been forecasting weather across the UK . They have learnt all about the different weather symbols, and presented their weather forecast confidently and clearly. This will link with developing their geographical knowledge further when they study hot and cold climates.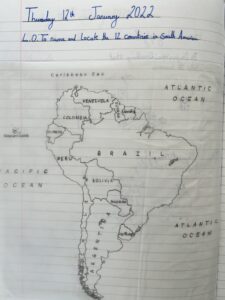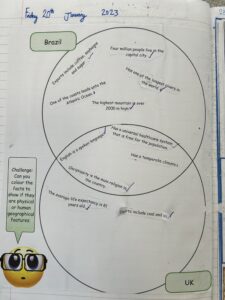 Children in Key Stage Two developing locational knowledge naming and locating the countries of South America. Through the unit 'South America and the Amazon Rainforest', KS2 classes investigated the location of the continent and its countries, delving into the diverse range of human and physical features and processes that can be found within.
'I enjoyed learning about different places and comparing them with where we live and other parts of the world' KS2 Child
At St Peter's, we value the importance of engaging young geographers in local fieldwork, and we are fortunate that Yorkshire Dales Rivers Trust offer hands-on-learning through its Rivers2U Project.
Expert staff lead practical and informative small group sessions from their Rivers2U van – a mobile classroom which is fitted with the following:
A Rivers Table – hands-on learning which shows how rivers work from source to sea.
Microscopes – which allow children to observe and identify the minibeasts and river flies that live in our watercourses.
Displays showing different aspects of rivers and their wildlife habitats.