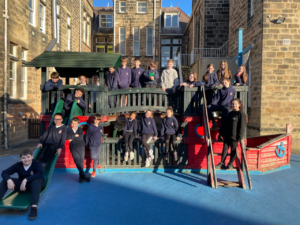 Play Squad 2021-2022
As articulated in our vision of Love Learn Shine
'We support children to grow and develop socially, emotionally, physically and spiritually, helping them to shine and share their light enabling themselves and others to flourish.'
Our Play Squad play an important role in helping our playtimes be safe, fun and active for everyone. Selected from children in Year five and six they take it in turns to organise and care for the play equipment and run small games and activities for the younger children at playtime and lunchtime.
They will also help support play in our nurture room 'The Nest'.
Here is what our play squad members have to say about being a member of the team.
"I really enjoy encouraging everyone to play nicely."
"I am proud to be a Play Squad Leader."
"Being a Play Squad Leader is an important role in school"
"I enjoy playing with and encouraging the younger children"