At St Peter's we believe in healthy competition and teaching the children to compete in sport using all the values of the 5 R's. We feel it is important for all of our children to have the chance to represent our school and give all children from Years 1 to 6 the chance to represent our school during each academic year.
We enter many competitions during the course of the year including infant agility, cross country, hockey, football, tag rugby, sports hall athletics, rounders, cricket, tennis, archery, cyclo cross, swimming and many more.
Here at St Peter's we are proud to be working closely with the  Harrogate School Sports Partnership to offer a full range of competitions and events during the year. Please click on the logo below to see what the Partnership has to offer.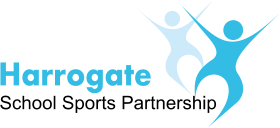 Current Clubs – Sporting and Non Sporting
Please click on the link below to see the available clubs this term. If you would like your child to attend an after school club please fill in the form on the newsletter below and return to school.